Earthquake relief efforts in Nepal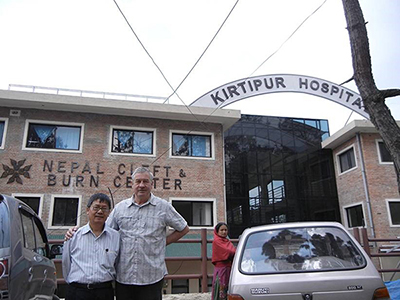 Operation Smile has mobilized to send desperately needed medical supplies to earthquake survivors in Nepal suffering from two massive earthquakes just over two weeks apart. Critically needed medical supplies will arrive in Kathmandu by Tuesday to help those affected. The death toll since the mammoth earthquake on April 25 and the following earthquake Tuesday has left more than 8,460 dead and more than 18,000 injured.
"My heart goes out to the people of Nepal for all of the struggles they have faced in the past weeks. Sometimes, things do not make sense, but we can do our best to help in times of need," said Operation Smile Co-Founder and President Kathy Magee. "We are here to assist in any way possible to treat the people of Nepal during this difficult time."
Operation Smile's partners at the Nepal Cleft and Burn Center in Kathmandu are working to help every injured patient who comes to the hospital. The hospital, which has remained intact with minor cracks while buildings around it have largely collapsed, has been operating at three times capacity to help as many patients as possible. But treating patients at such high numbers, has left the center lacking in crucial supplies.
Hearing the news of the devastation, Operation Smile Co-Founders Bill and Kathy Magee reached out to Jim Webber, executive director of the Nepal Cleft and Burn Center, and Dr. Shankar Rai, director of the Nepal Cleft and Burn Center, to see how best to help in the aftermath of the quake. The center – serving as a hub for emergency services and surgery for those affected – has transitioned from a modestly equipped 50-bed center to a bustling, 150-bed (and rising) disaster relief operation. Having already seen more than 350 patients in the emergency room and provided more than 90 operations, Dr. Rai said supplies are running dangerously low – even as the need continues to grow.
"Every day we are receiving injured. We have mobilized our orthopedics team to operate on patients in our four operating rooms," said Dr. Rai, who is also an Operation Smile medical volunteer and has worked with Operation Smile to host medical missions at the center. "Our policy is to turn no one away."
Over a matter of hours, Operation Smile mobilized an emergency shipment of medical supplies, worth more $11,000, to send to the Nepal Cleft and Burn Center to arrive by Tuesday. Representatives from the international relief organization Operation Blessing will hand-carry these supplies to the hospital to ensure they arrive safely to Dr. Rai. Operation Smile and Operation Blessing have been working together for more than 30 years.
"We expect many more surgical problems to surface in the days to come," Dr. Rai said. "Since ours is the biggest plastic surgery team and hospital, we have requested the Ministry of Health and many other international and national organizations to refer their patients needing plastic surgical care to our hospital."
The center's executive director, Jim Webber, said the donations will not only play a major role in treating the victims of the current disasters, but "will impact the people of Nepal for generations to come."
"We're here to help in any way we can to help touch the lives of those affected by the earthquake," said Operation Smile CEO and Co-Founder Dr. Bill Magee. "We are surrounded by a compassionate staff and equally compassionate volunteer and donor base who have seen firsthand the dramatic need that can be helped by personal involvement."