Peace Corps Volunteer Helps Toddler Smile
Patient Stories
Posted 1/8/2015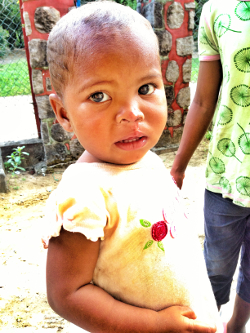 Meet Landrycia. She's about a year old now, and completely different from the first time I saw her.
Several months ago, her grandmother reached out to me having heard that I brought children to an  Operation Smile medical mission in Tamatave. I greeted her and her granddaughter, who suffered from a cleft lip, and explained to Landrycia's grandmother that unfortunately I would not be able to attend the Operation Smile medical mission held in Tamatave. But I told her if she was prepared to travel on her own, then I would ensure that she would make it safely and be housed.
I coordinated with the Catholic Church in Tamatave and paid for this woman and her grandchildren's fare up to the city. I had faith that they would reach the medical mission site safely, and I had high hopes Landrycia would get the free cleft surgery she needed.
Two months passed by and I didn't see Landrycia or her grandmother again. With no cell phone or lines of communication it was impossible to reach out to her for an update or even a hello. I didn't know if she made it. I didn't know whether her granddaughter had been a candidate for surgery. I didn't know anything more than our first conversation.
When I first met Landrycia, she was tiny, thin, weak and tired.  Her mother had a difficult time breast feeding her because of her cleft lip. The family had been ostracized by members of her village for not properly caring for her child, thus leaving the child in the care of the grandmother. I thought about Landrycia and her family daily. As time passed, I could just hope that they received the care they needed, or that perhaps they would reach out to me again.
Then recently an amazing thing happened. A young girl, the one in the photograph, showed up at my house. I responded "Akory!" (Hello!") In my mind, she looked familiar. Then a few seconds later her grandmother came around the corner, "Charlotteeyy! Efa sitrana Landrycia!" the grandmother yelled, which means, "She is healed!"
I stared in awe. This young girl was no longer weak, no longer thin, no longer without hope. She stood in front of me with beautiful big round eyes, healthy as can be, barely a scar in sight.
For all of this, I thank Operation Smile. Working together through word of mouth, through a group of individuals who care, we were able to give this beautiful toddler a chance at a new start at life.
Charlotte Emilie Steppling is a Peace Corps volunteer located in Mahanoro, about 200 kilometers south of Tamatave.